20 Things you should know before your trip to Laos
Laos is a charming place, where the people are friendly and welcoming. It is very traditional and can feel like stepping into another time. To make the most of your time here, there are some things you can do to make your visit even more special.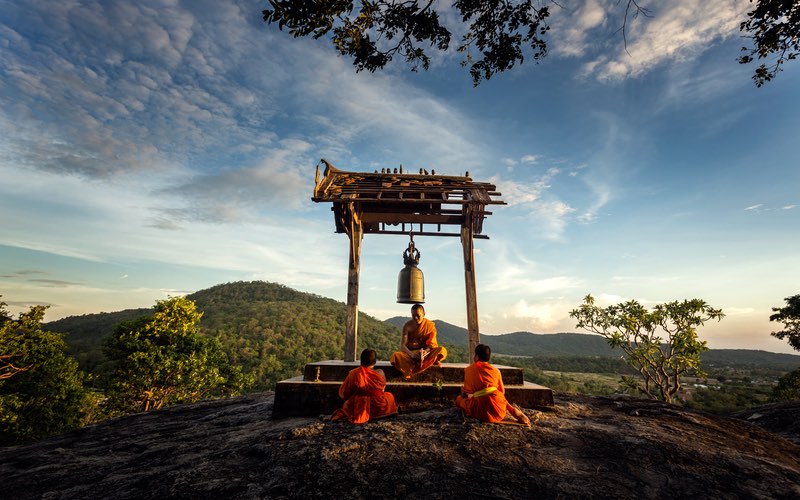 |
1.Be ready to have fun
There are so many things in life to celebrate and here, in Laos, people love to take those opportunities. Be ready to laugh, to dance, to sing, and to have fun.
|
2.The rainy season
Although the rainy season lasts several months, it normally rains overnight with one heavy short storm in the day. If you are visiting between June and September, you might want to bring a good waterproof and good shoes.
|
3.Monks
Monks are revered and respected. If you are a woman, you need to take extra care. Be ready to stand aside and them walk by, and never ever sit next to a monk or touch a monk.
|
4.Lao food
Lao food is packed with flavour and some foods can be quite unusual for foreigners. It is so important to the culture that often people greet you with 'Have you eaten rice, yet?'. You will be offered food and, as everywhere, it is polite to try it and smile. Of course if you love it and show this, you'll make friends even quicker.
|
5.Respectful
Generally Lao people are very respectful and often shy. If someone doesn't answer your question or looks away when you talk, they aren't being rude. They are just very shy.
|
6.Respectful of age
Age really matters in Laos. Older people are really respected. Don't be surprised if you are asked your age, or called older brother or sister by someone who is clearly older than you. It is a sign of respect.
|
7.Taxis are often cheaper than tuk tuks
Taxis are a relatively new thing in Laos, and come in a wide variety of shapes and sizes. Don't assume tuk tuks will be cheaper. Often a taxi with air con will cost less than a tuk tuk. Always negotiate the price first.
|
8.Pimai
Pimai, or Lao New Year, takes place from 14th to 16th April each year. It is the water festival when people pick up their water-pistols and head out for fun. If you are here at that time, expect to get wet. Almost everyone is on holiday and there are parties everywhere.
|
9.That Luang Festival
That Luang Festival takes place around the full moon in November. Monks from all over the country gather at the stupa and people come early to collect and give alms on the morning of the full moon. In the evening there is a candlelit procession around the stupa
|
10.Boat racing and Ock Phansa
If you visit Vientiane during the full moon in October you'll be here for the boat racing festival. This is at the end of Buddhist Lent when many have given up Beer for three months and might make up for it during this festival! Ock Phansa happens on the night of the full moon when people take a lotus flower, hand crafted from a banana tree and leaves, and filled with flowers and lit candles, down to the river. They set it afloat, taking away all the bad from the year before.
|
11.Fish
If you order fish in a restaurant, you will often have it filleted for you. Partly this is to make it easier to eat, but it is also because of a superstition. If you turn a fish over on your plate while you are eating, a fishing boat is at risk of capsizing.
|
12.Shoes inside
Lao people never wear shoes in the house. Bring shoes that are comfortable but easy to slip on and off.
|
13.Smile when unsure
In the west, we tend to frown when we aren't sure of something. Here in Laos, it is generally a smile that comes first. Don't confuse smiling with someone thinking the situation is funny. It's just a different way to react!
|
14.The moon matters
A lot of life is hinged around the moon. Festivals are normally timed to coincide with the full moon, which is the day that the monks shave their heads. The full moon, half moon and quarter moon days are all very important days and people are more likely to give alms on these days. Monks at the temples bang a drum from very early in the morning and there is also a belief that people are more likely to be injured if they work on those days.
|
15.Walk clockwise round stupas
If you find yourself needing to walk around a temple or a stupa, you should walk in a clockwise direction. During candlelight processions, or ceremonies for new monks, people will walk 3 times in a clockwise direction.
|
16.Even and odd numbers matter
There is a strong belief in spirits, good ones who help us and who we want near, and bad ones who we are wary of. The good spirits live on the odd numbered steps while the bad ones are on the even numbered step. Where there are steps there will sometimes be a very shallow step in the middle. It is to make sure that there is an odd number of steps into the house.
|
17.Spirit houses
Almost every house has a spirit house. The spirits need regular offerings of good food, drinks, maybe even cigarettes. The spirit house must roughly match the house it serves.
|
18.Buddha images
Buddha images are revered. It is important to treat them with respect and especially not to point your feet at them.
|
19.Shaking hands
It isn't normal to shake hands here. Instead the hands are brought together, as if in prayer, and the head lightly bowed.
|
20.Time can be fluid
Generally, if you ask someone the time, they will say (for example) 10 o/clock, after 10, 10.30, or before 11. Life is taken gently here and it's a good time to slow down.