What is the Crowne Quarantine Experience?
|
At Crowne Plaza Vientiane, our guests are always our top priority. And whether you are staying for business, for a treat, or quarantining at the hotel, your comfort and safety are always foremost in our thoughts. With this in mind we have created a quarantine experience that seeks to make your stay as pleasant and safe as possible.
Your quarantine visit starts with your airport or bridge pick-up. Our staff, of course, wear protective gear (PPE suit), and the car is disinfected after every use so you can be confident that the safety of yourself, and our other guests and staff is protected.
Our staff have had extensive training to ensure that all quarantine protocols are not just complied with, but exceeded, and they are monitored closely to ensure that masks and gloves are replaced frequently, that physical distancing is observed and that every safety procedure is closely followed.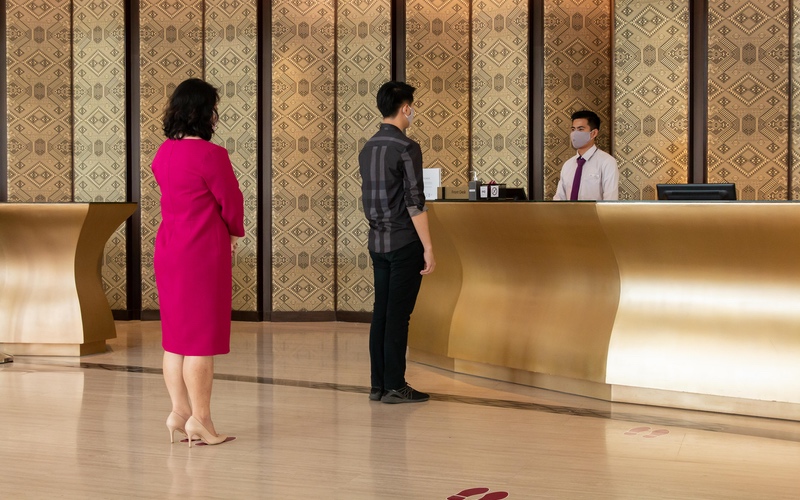 At every entrance to the hotel, there is a disinfectant footbath, temperature screening and a hand-sanitizing station that is compulsory for everyone entering. Masks are mandatory for everyone throughout the public areas of the hotel and our staff observe a 1 metre physical distancing at all times. Check-in staff wear a face shield and sanitize their hands and the check-in desk frequently. It is during check-in that your luggage will be disinfected to ensure that any handling during your journey to Laos is not going to cause you any problems.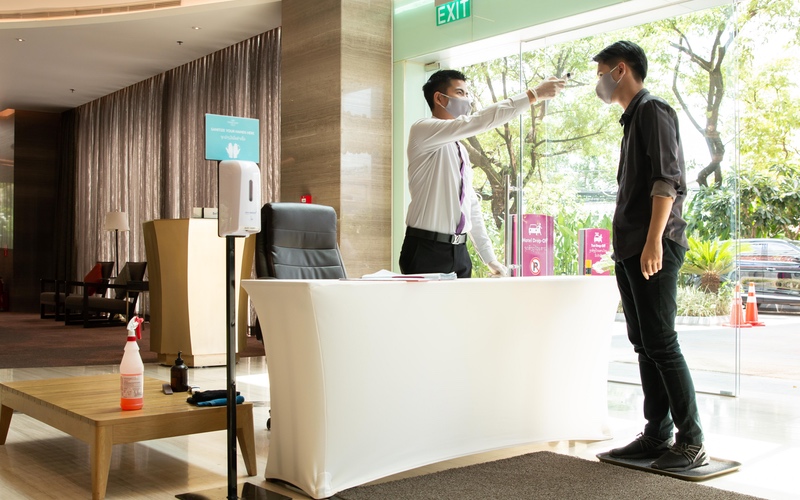 Your room key will be a single entry usage. For your own protection and for the protection of everyone around, you will stay in your room throughout the visit. There will be twice-daily temperature tests which will be reported to the health authority who keep track on your progress, and you will also be tested for Covid-19.
Because you will be staying in your room for 14 days, we will do everything we can to make your stay a pleasant one. All our rooms are large, starting at 34 square metres, with big windows and great views. Each has a shower and bath, as well as fast internet, a flat screen TV, a sofa, a desk and plenty of room to work-out so that you can stay fit during your stay. Your room will be stocked with toiletries, towels, etc. for the duration of your stay, but of course, we are always happy to provide more if and when you need them. You only have to ask!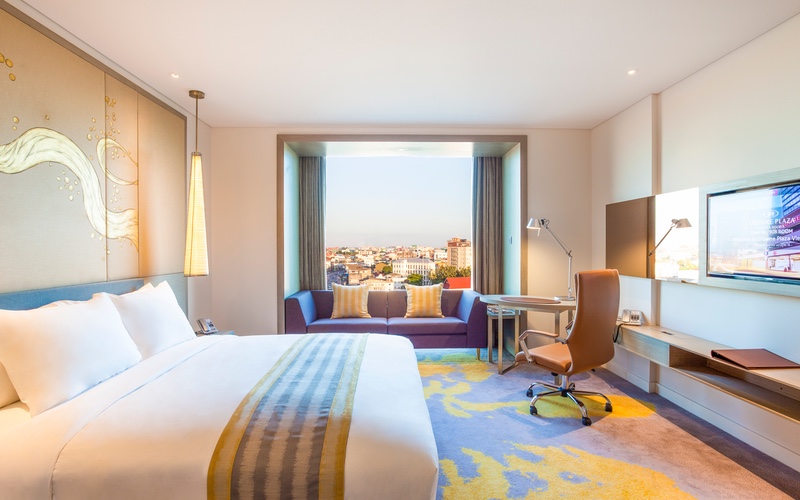 Of course, with 14 days in the hotel, you may well have laundry needs. Any laundry you leave outside your room, in the bag provided, will be dealt with individually by staff wearing protective gear. Your laundry will not be mixed with that of anyone else, undergo a disinfecting washing cycle and will be delivered back to your door.
Cleanliness and guest well-being has always been a crucial part of our promise to you, and we have pledged to go that much further. It is for this reason, our hotel has launched the IHG Clean Promise program, which is there to give you further peace of mind that your health is one of our top priorities.
At Crowne Plaza, we pride ourselves on our delicious food, and this extends to your quarantine stay. With a menu that changes weekly, you will have a choice that takes account of our guests' different requirements. Whether you want to eat Asian, fusion, or Western food, whether you want a vegetarian dinner, a light meal, or something more filling, we have choices for you. And to keep things interesting, there is also a chef's special for the day, as well as soup of the day. If that's not enough, you can also order more from the à la carte menu. When you can't leave your room for 14 days, having chefs creating delicious meals, can make all the difference.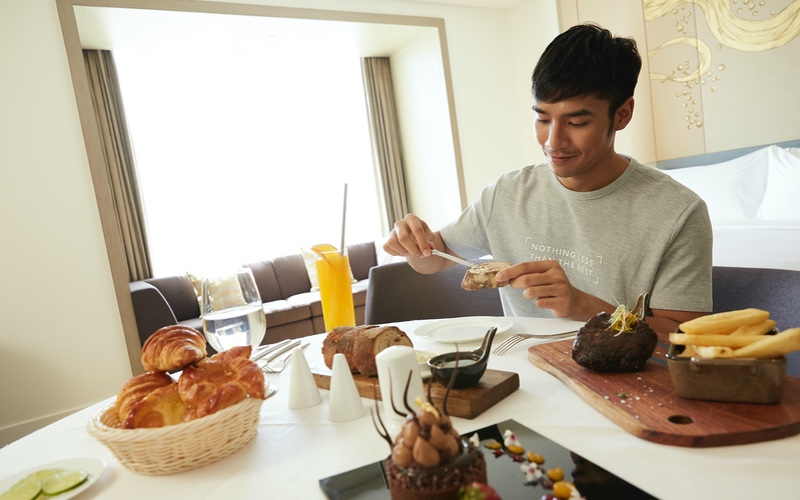 We prepare your meal and serve it to you in a hotbox on a trolley that is left outside your door. This means that your food will be hot and delicious when you eat it. When you are done, just leave it outside your room from where our staff will collect it and disinfect everything before it is used again.
We want to make sure that you have plenty of space in your room, so the fridge is emptied ready for anything you want to keep in there.
We pride ourselves on our high standards of customer service and we realise that this is all the more important when you are unable to leave your room. Our 'IHG True Hospitality' values extend to our quarantine package so if you find yourself craving something that isn't on the menu, or if there is something else you need, do let us know and we will do our best for you. We can't, of course, let you leave your room. Not until quarantine is over!
We hope we can help you have a constructive and relaxing quarantine and look forward to welcoming you into our restaurants once your quarantine period is over.
For more information, please contact +856 21 908 888 or email vientiane.reservation@ihg.com
|
40-inch LED TV
Netflix
Personal safe
Bathroom amenities for 14 days
Posturepedic mattress
iPod docking station/iHome
High-speed internet access
Convenient USB ports
Daily five-star breakfast, lunch and dinner
|
Our Clean Promise to you
As the world adjusts to new travel norms and expectations, we're enhancing the experience for you – our hotel guests – by redefining cleanliness and supporting your wellbeing throughout your stay. We have expanded our commitment to cleanliness by:
Using new science-led protocols and service measures by enhancing the IHG Way of Clean
Partnering with industry leading experts Cleveland Clinic, Ecolab and Diversey
Launching a global IHG Clean Promise
These strengthened procedures are designed to give you greater confidence and hotel teams the protection needed.